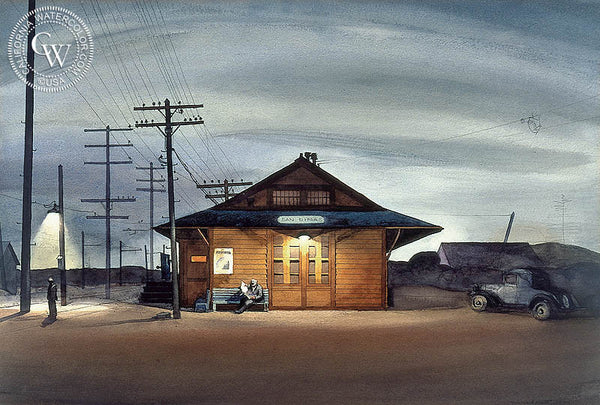 Biography: Millard Sheets, N.A. (1907-1989) Born: Pomona, CA; Studied: Chouinard Art Institute (Los Angeles); Member: National Academy of Design, New York Water Color Club, American Watercolor Society, California Water Color Society. Millard Sheets was a native California artist and grew up in the Pomona Valley near Los Angeles. He attended the...... read more
&nbsp
San Dimas Station, 1933, a California watercolor painting by Millard Sheets. This painting is available as a fine art giclée print on premium watercolor paper. 
In the 1930s Los Angeles had a thriving transportation system which covered the entire area, from the Pacific Ocean to San Bernardino at the East end of the Los Angeles basin. It was named the "Big Red Car." It was a trolley car which ran on the Southern and Northern Pacific railways. In the late 1920s my Father Millard Sheets would ride the Red Car from his home in Pomona some 35 miles to downtown Los Angeles when he attended the Choinard School of Art. The San Dimas station was a nearby stop to Pomona and on his late night return from art school he would sketch the scenes at the station stops along the way. This painting is the result of one of these sketches and it creates a story in itself of a lone man waiting to either greet someone or for the next trolley to who knows where. Tony Sheets
Exhibited: The American Scene, Regionalist Painters of California 1930-1960's, Fallbrook Arts Center, Sept. 1999.

A Tapestry of Life: The world of Millard Sheets, The Millard Sheets Center for the Arts at Fairplex, September 7 through 30, 2007.

California Scene Paintings 1930-1950, Bakersfield Museum of Art, April 8 through May 14, 1999.

Everyday Life in California, Regional Watercolors, 1930-1960, California Heritage Museum, May 15 through November 14, 2004.

DAMNGORGEOUS, Millard Sheets and His Southern California Legacy, Oceanside Museum of Art, Sept. 14, 2008 - Jan. 4, 2009.

Millard Sheets, The Early Years (1926 - 1944), Pasadena Museum of California Art, Feb 14 through May 30, 2010.
California Scene Paintings 1930 - 1960, Pasadena Museum of California Art, March - July, 2013.
California Scene Paintings 1930 - 1960, The Irvine Museum, January 18 - May 18, 2014.
Literature:
As seen in
California Watercolors 1850-1970
, by Gordon T. McClelland and Jay T. Last. An illustrated history and biographical dictionary.