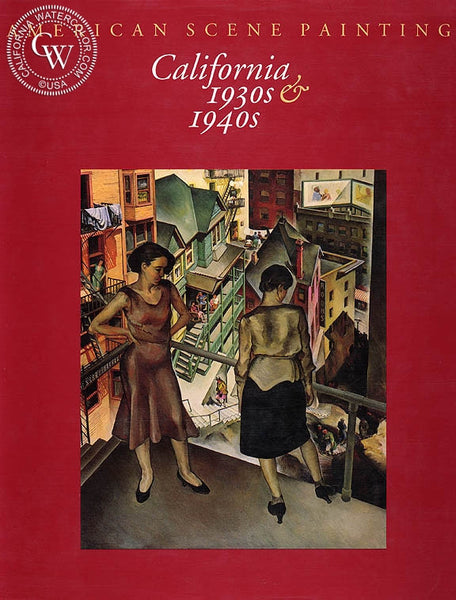 &nbsp
240 pages, by Ruth Westphal and Janet Blake Dominik

146 color illustrations, hardcover - $49.00 
Out of the nation's worst economic downturn, The Great Depression, came a new American resolve and a reversal of foreign influence. One aspect of this trend was a uniquely American artistic output. The commonplace activities and environments of Americans at work and at play became the inspiration for and the subject matter of artwork produced across the nation. The movement was referred to as "American Scene" or "Regionalism" and took the form of murals, oil paintings, and watercolors.
This book concentrates on California's contribution to that era of American art. Both in Northern and Southern California the work that gained the majority of critical acclaim and drew national attention was overwhelmingly in the medium of watercolor, which is therefor the emphasis here.

Twenty-five of the leading painters of the period are profiled in richly illustrated individual sections, and four essays by the nation's leading authorities on this genre explore the phenomenon and place it in a national context. Included are full color reproductions of paintings from museums throughout the united States, among which are: the Hood Museum of Art, the Laguna Art Museum, The Los Angeles County Museum of Art, the Museum of Modern Art, the National Academy of Design, The Oakland Museum, the San Diego Museum of Art, the San Francisco Museum of Modern Art, the Santa Barbara Museum of Art, and the Whitney Museum of American Art.
Both beautiful and absorbing, this book is also a comprehensive, scholarly reference source, valuable for the neophyte as well as the sophisticated collector, curator, or art historian.
California Watercolor - California Art Book