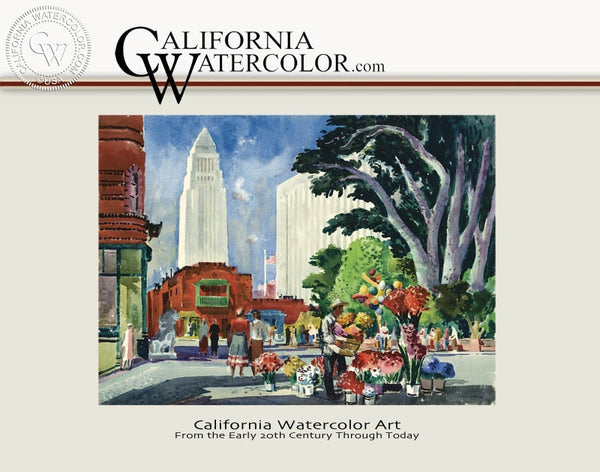 &nbsp
A 36 page softcover catalog featuring 94 museum quality watercolors by 48 famous California artists.
The paintings chosen for this catalog cover a wide range of subject matter including California coastal scenes, cityscapes from across the country, rural farm scenes, carnivals, and more.
Much of "American Scene" painting conveys a sense of nationalism and romanticism in its depiction of everyday life. These artists documented and illustrated American cities, small towns, and rural landscapes with a richness never seen before. Some did so as a means of returning to a simpler time, far from the industrial ways of the twentieth century, whereas other artists sought to make a political statement with their art.

Many of the scene painters held formal positions in the art community working for companies such as Disney, Paramount, and MGM. A few also held teaching positions at well-known art schools such as the Chouinard Art Institute in Los Angeles, a school funded partially by Walt Disney to provide a steady flow of talented artists for his popular animated films and movies. Although these artists worked tirelessly throughout the day at their professions, they always found a way to paint in their spare time.

These young artists became internationally celebrated. Over a dozen of them were selected by their peers to become Academicians of the National Academy of Design, the highest art honor in our country. Numerous others were members of the American Watercolor Society and the California Watercolor Society and have displayed their art in countless museum exhibitions.

California Watercolor