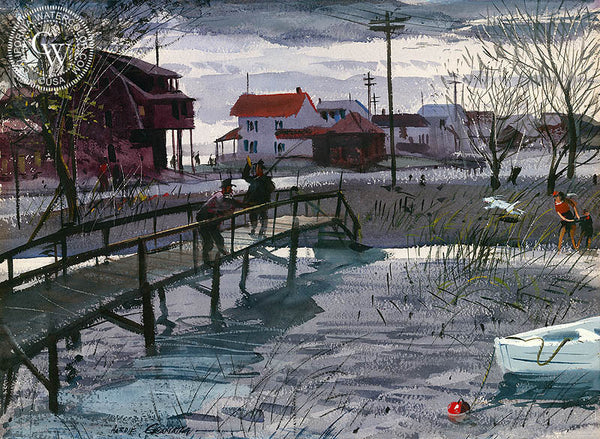 Biography: Hardie Gramatky, N.A. (1907-1979) Born: Dallas, TX; Studied: Stanford University, Chouinard Art Institute (Los Angeles); Member: National Academy of Design, New York Water Color Club, American Watercolor Society, California Water Color Society. Hardie Gramatky was raised in Southern California. He studied art with F. Tolles Chamberlin, Clarence Hinkle, Pruett Carter...... read more
&nbsp
On the Sound, (Westport), 1937, an original watercolor painting by Hardie Gramatky. This painting is available as a giclée art print on premium watercolor paper.
Exhibited: One man exhibition at the Chouinard Galleries in Los Angeles, 1940.
World of Watercolor, Fallbrook Art Center, March 6 - April 27, 2011.
Literature: As seen in California Watercolor Art from the Early 20th Century Through Today.
"This is such an amazing story about this painting. It was done while my parents lived in New York City but Dad described this as a "summer resort, Connecticut" that he painted on June 5, 1937. In 1938 it was exhibited at McCann-Erickson and the Toledo Museum for the American Watercolor Society in 1938. I have a clipping from the Hollywood Citizen-News from March 30, 1940, where the original painting was included in Dad's one-man exhibition at Chouinard's (which went until April 13) and was described as `[this] must be among the handsome watercolors hung recently in Los Angeles. It is subtle in color, briskly but decisively washed on, and discerning in its values.' Then it was exhibited in an invitational show in San Diego. However, when it surfaced for sale a few years ago, the painting no longer had just the beach houses and some water in the foreground, but sometime after 1940 Hardie Gramatky had added the bridge, tree and two fishermen on the left and the rowboat, anchor, trees, child and dog on the right, as well as a telephone pole in the middle! I have seen the watercolor and it is identical to the one in the newspaper clipping, but these interesting features were added. So much for the old saw that says that one can corrects an `oil' but not a `watercolor'! My dad could, and did!!"

Courtesy of daughter-Linda Gramatky Smith
SPECIAL DISCOUNT - 60% off giclée prints.