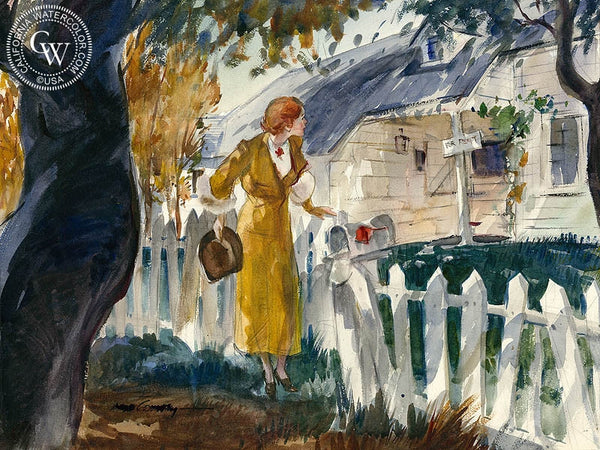 Biography: Hardie Gramatky, N.A. (1907-1979) Born: Dallas, TX; Studied: Stanford University, Chouinard Art Institute (Los Angeles); Member: National Academy of Design, New York Water Color Club, American Watercolor Society, California Water Color Society. Hardie Gramatky was raised in Southern California. He studied art with F. Tolles Chamberlin, Clarence Hinkle, Pruett Carter...... read more
&nbsp
A California art print on Arches watercolor paper. 100% archival, and printed in HD.
Exhibited: World of Watercolor, Fallbrook Art Center, March 6 - April 27, 2011.
Literature: As seen inCalifornia Watercolor Art from the Early 20th Century Through Today.
"A delightful imaginary sample illustration, although the house does look like a typical California bungalow in the South San Gabriel area where my Grandmother Blanche and her sister, my Aunt Mimi, lived. My parents both did several sample illustrations for their portfolios before heading to New York City after Dad ended his contract with Walt Disney in 1936.
Courtesy of daughter-Linda Gramatky Smith