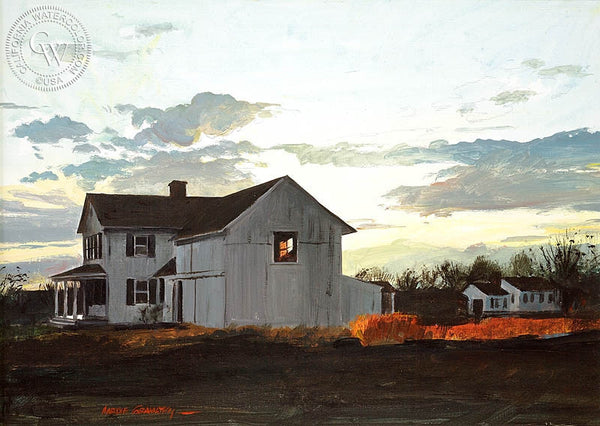 Biography: Hardie Gramatky, N.A. (1907-1979) Born: Dallas, TX; Studied: Stanford University, Chouinard Art Institute (Los Angeles); Member: National Academy of Design, New York Water Color Club, American Watercolor Society, California Water Color Society. Hardie Gramatky was raised in Southern California. He studied art with F. Tolles Chamberlin, Clarence Hinkle, Pruett Carter...... read more
&nbsp
A California art print on Arches watercolor paper. 100% archival, and printed in HD.
Literature: As seen in California Watercolor Art from the Early 20th Century Through Today.
"Painted in 1968, this is one of my favorite paintings of Dad's. It was done of the barn of our neighbors, the Fontelieus, across the street at sunset. It was reproduced in the book Acrylic Watercolor Painting by Wendon Blake in 1970. The barn is still there attached to the old Victorian farmhouse build in 1868 but the window where the light streamed in is now boarded up. Too bad because this scene really inspired Dad. It was shown in the Bergen Museum and the Westport Art Center exhibits."
Courtesy of daughter-Linda Gramatky Smith