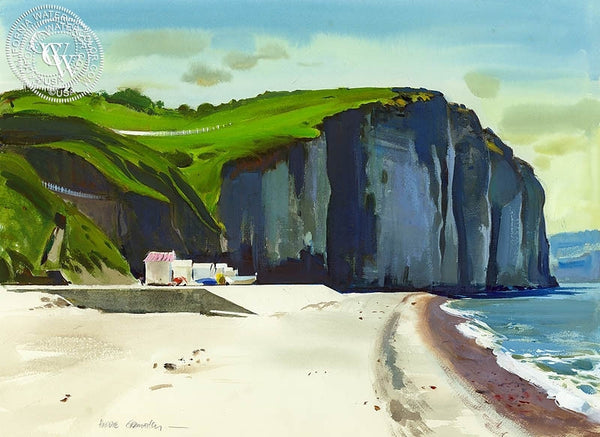 Biography: Hardie Gramatky, N.A. (1907-1979) Born: Dallas, TX; Studied: Stanford University, Chouinard Art Institute (Los Angeles); Member: National Academy of Design, New York Water Color Club, American Watercolor Society, California Water Color Society. Hardie Gramatky was raised in Southern California. He studied art with F. Tolles Chamberlin, Clarence Hinkle, Pruett Carter...... read more
&nbsp
A California art print on Arches watercolor paper. 100% archival, and printed in HD.
"The town of Les Petites-Dalles in France was visited by my parents twice before my Dad died in 1979. They were very touched by the WWII history of Normandy, and took our 9-year-old son back there in 1977 to explore the entire coast of Normandy. This watercolor was shown in Dad's retrospective exhibit in 1989 at the Stary-Sheets Gallery. The beach, the houses, the impressive cliffs make for a dramatic painting."

Courtesy of daughter-Linda Gramatky Smith

Literature: As seen in Hardie Gramatky, A Retrospective View, Works from 1928 - 1978, a one man show at Stary-Sheets Gallery, July, 1989.