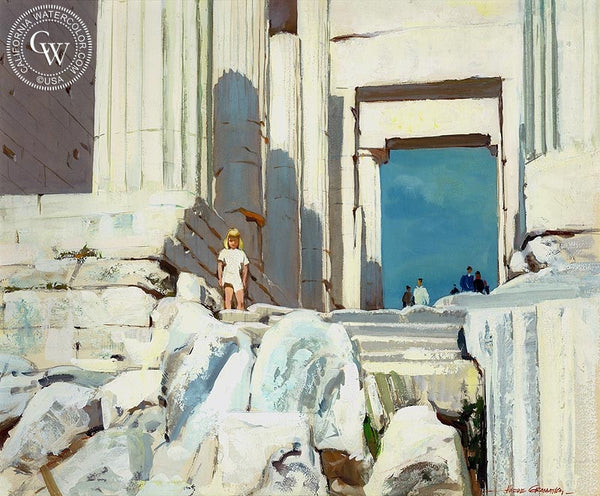 Biography: Hardie Gramatky, N.A. (1907-1979) Born: Dallas, TX; Studied: Stanford University, Chouinard Art Institute (Los Angeles); Member: National Academy of Design, New York Water Color Club, American Watercolor Society, California Water Color Society. Hardie Gramatky was raised in Southern California. He studied art with F. Tolles Chamberlin, Clarence Hinkle, Pruett Carter...... read more
&nbsp
Acropolis, 1962 is an original watercolor & gouache painting by Disney artist Hardie Gramatky.
Fine art prints on premium Arches watercolor paper  available.
"Painted on a trip to Greece with my mom in 1962. I went off to college and my parents went traveling! In Rhodes, they were visiting a longtime friend who was an admiral in the Coast Guard. Dad described the girl in `Acropolis' as a `child at Propylea, Athens' and it's fascinating the way the child is looking so directly at the artist as Dad sketched the scene. Recently, a Greek friend told me that this part of the Acropolis [the Propylea is the monumental gateway and was designed by the architect Mnesikles and constructed in 437-432 B.C.] is off-limits to tourists. The painting was part of the American Watercolor Society 95th traveling exhibit in 1962-63. Then it was shown in Aurora (Chicago), IL show in 1966."
Courtesy of daughter-Linda Gramatky Smith