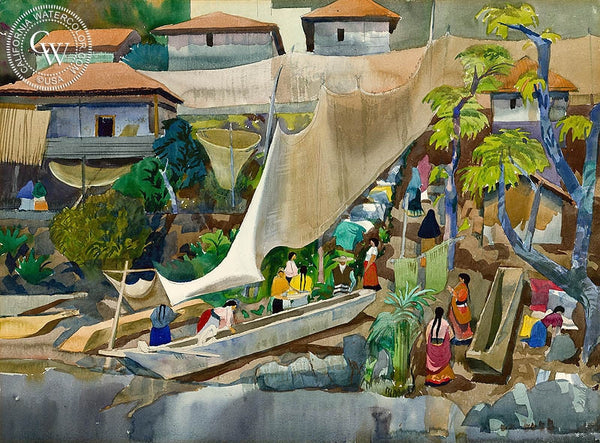 Biography: Millard Sheets, N.A. (1907-1989) Born: Pomona, CA; Studied: Chouinard Art Institute (Los Angeles); Member: National Academy of Design, New York Water Color Club, American Watercolor Society, California Water Color Society. Millard Sheets was a native California artist and grew up in the Pomona Valley near Los Angeles. He attended the...... read more
&nbsp
A California art print on Arches watercolor paper. 100% archival, and printed in HD.
Exhibited: A Tapestry of Life: The world of Millard Sheets, September 7 through 30, 2007, The Millard Sheets Center for the Arts at Fairplex.
Literature: As seen in California Watercolor Art from the Early 20th Century Through Today.
Lake Patzcuaro is located approximately 250 miles southeast of Guadalajara, Mexico. It lies in an area where the early Missionaries excelled in bringing change to an area. The lake is surrounded by small villages, each making their own crafts with the materials from the land around them, so each village's crafts were unique to that village, such as pottery, embroidery, copper repousse' and many other crafts. Realizing this, the missionaries helped them to create a barter system where they would exchange their goods at market. This barter system remains today.

Millard visited this area many times during his life. In the early years before air service he would drive there with fellow artists to paint. This painting is of a fishing village on the island of Janitzio, in the middle of Lake Patzcuaro. These fishermen were known for their butterfly nets which they used to catch a small white fish that was a delicate delight to eat. They would place the net, which could be as large as 20' across from wing tip to wing tip, on top of their canoe like the one in the painting. Then they would dip one wing into the water until it contained fish, and then raise that wing and dip the other wing and remove the fish from the prior dipping.

The ladies and kids in this painting are returning home from the market where they had exchanged their goods for merchandise from other villages. The festival of "The Night of the Dead" is a famous October ritual in Mexico and one is held on this island. But a far less known ritual is held the morning of that night, called "The Morning of the Angels," performed by the children of that village. My Father has painted the night festival and I have painted the one of the morning. Tony Sheets
Books and Catalogs on Millard SheetsView All