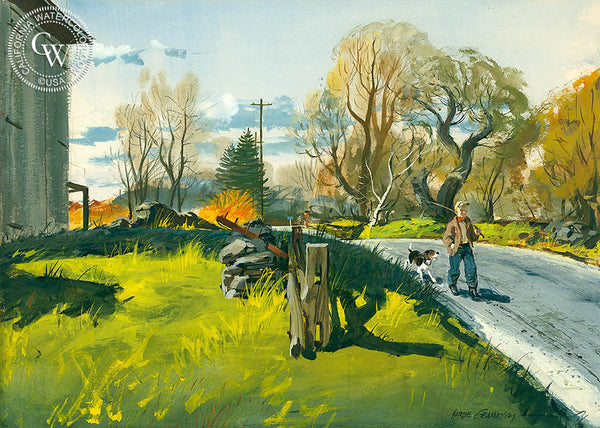 Biography: Hardie Gramatky, N.A. (1907-1979) Born: Dallas, TX; Studied: Stanford University, Chouinard Art Institute (Los Angeles); Member: National Academy of Design, New York Water Color Club, American Watercolor Society, California Water Color Society. Hardie Gramatky was raised in Southern California. He studied art with F. Tolles Chamberlin, Clarence Hinkle, Pruett Carter...... read more
&nbsp
An original watercolor by Hardie Gramatky titled Country Road, (Westport), c. 1950s. This painting is also available as a fine art print on Arches watercolor paper. 100% archival, and printed in HD.
"Just look up the road from my childhood home on Roseville Road in Westport, CT, and you can still see this scene, although the barn has been changed into a fancy home and the road is a well-traveled commuter route now. It's so good to have this watercolor to remember `how life was'."
"I'm proud that this painting is featured in a 2005 exhibit at the new Pasadena Museum of California Art curated by Gordon McClelland."
Courtesy of daughter-Linda Gramatky Smith