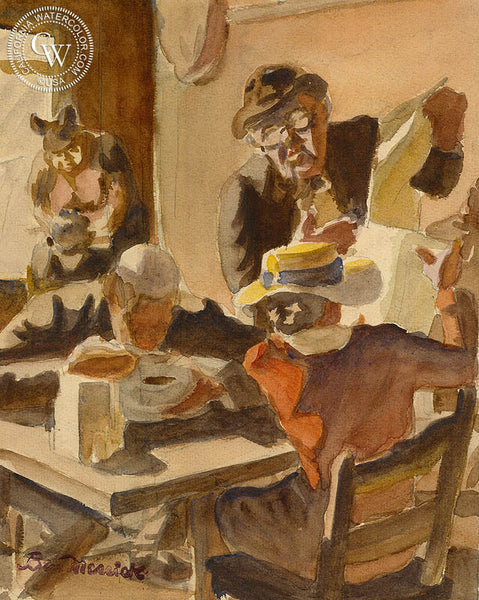 Biography: Ben Messick (1901-1981) Born: Strafford, MO; Studied: Chouinard Art Institute (Los Angeles); Member: California Art Club. Ben Messick was born in the Ozarks and spent his childhood there. When he was sixteen, he joined the armed forces and was sent to the European battle front. After recuperating from his wartime...... read more
&nbsp
This watercolor was originally painted as a sketch for a larger oil painting that is now owned by the Los Angeles County Museum of Art. Here is more information from LACMA:
This is an early painting, probably of the late 1930s, which was exhibited in Messick's first solo exhibition. It demonstrates his socialrealist tendencies in its depiction of ordinary people engaged in everyday activities of a life that is far from luxurious but is still respectable. A man shares a newspaper with a faceless woman while an elderly gentleman hungrily slurps his soup in a sparsely furnished restaurant. Main Street Cafe Society is painted in a palette of earth tones. Color was essential to Messick for conveying the mood of his scenes, and he usually selected a restricted color scheme for each painting. While the browns and beiges of this painting bespeak a poor and spare life, the overall pink cast of the palette suggests a positive, almost rosy attitude toward it. Messick also believed a good composition should move rhythmically, and in Main Street Cafe Society the viewer proceeds through the scene by means of fluid lines and alternating areas of light and dark. Messick was a master draftsman, and it is not surprising that his linear, expressive painting style was often compared with Thomas Hart Benton's fluid, linear style. Messick heard Benton lecture at the California Arts Club when he visited Los Angeles in 1937. Messick usually produced a number of preliminary sketches for each work. A lithograph that differs in some details may have been based either on the museum's painting or on a study for it. Messick usually worked from such sketches rather than painting from a model.
This California Watercolor is also available as a fine art print on Arches watercolor paper. 100% archival, and printed in HD.
Books and Catalogs on Ben MessickView All