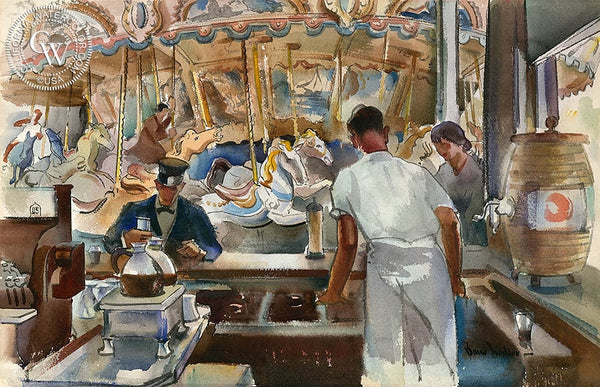 Biography: Barse Miller, N.A. (1904-1973) Born: New York City, NY; Studied: National Academy of Fine Arts; Member: National Academy of Design, American Watercolor Society, California Water Color Society, Philadelphia Water Color Club. Barse Miller began formal art instruction at the National Academy of Design while still in elementary school. There he...... read more
&nbsp
A California art print on Arches watercolor paper. 100% archival, and printed in HD.
In the mid-1930s, California artist Barse Miller was receiving national recognition for his representational California Scene Paintings, most of which included people engaging in everyday activities. He was a very diverse artist who would carefully consider the subject matter of each work and then adapt his stylistic approach to best suite the subject matter chosen.
This watercolor captures a scene he observed in the East Los Angeles area known as Lincoln Heights. One of this area‰۪s most popular attractions is Lincoln Park, located at the corner of Valley Blvd. and Mission Road. Established in 1881, this park was one of the first public parks in the Los Angeles region. Over the next 50 years, it developed into a major meeting place for Angelinos. When Miller was teaching watercolor painting at Art Center School, he would take students to this park to give them instruction on painting with watercolors in the outdoors on location.
By the time this work was painted, all sorts of commercial amusement attractions including a zoo, alligator farm, ostrich farm, and a movie studio surrounded the park. Special events like circuses and highly publicized picnic gatherings brought as many as 100,000 people to the park in a single day. Thousands of additional people visited the surrounding attractions each week and many of them walked through the park on the way to and from these attractions.
Within the park, there was a colorful carousel that was built by the famous Spillman Engineering Company. Adjacent to the carousel was a soda fountain and lunch counter. Both were located in a dome-covered structure within the park limits. Miller chose to paint a picture of the famous carousel, as seen from the backside of the lunch counter."
An excerpt from CALIFORNIA SCENE PAINTINGS, by Gordon T. McClelland & Austin D. McClelland. A book published for an exhibit at the Pasadena Museum of California Art.
Exhibited: California Scene Paintings 1930 - 1960, Pasadena Museum of California Art, March - July, 2013.
World of Watercolor, Fallbrook Art Center, March 6 - April 27, 2011.
National Watercolor Society: Southern California Inspirations, Past and Present - Oceanside Museum of Art, December, 2018 - April, 2019.
CALIFORNIA SCENE PAINTINGS, by Gordon T. McClelland & Austin D. McClelland.