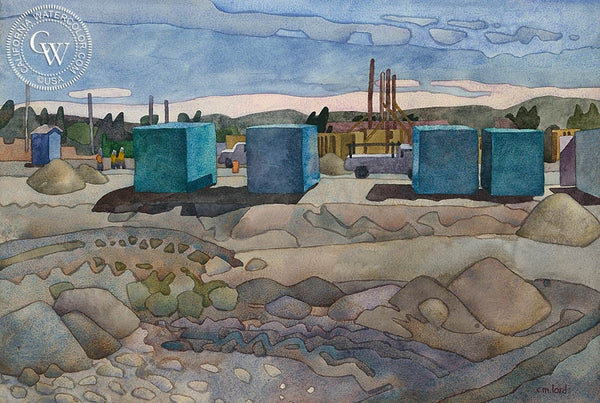 Biography: Carolyn Lord (1956 - ) Southern California native Carolyn Lord was introduced to the "California Regionalist Watercolor" tradition by James Green in the mid 1970's while attending Principia College, in Elsah, Illinois. During college she also attended watercolor workshops with Rex Brandt, George Post, and Robert E. Wood. Two months...... read more
&nbsp
Blue Boxes, 2003, an original watercolor painting by Carolyn Lord.
A row of bright blue shipping containers provides perspective, scale, and a sense of formality to this construction site in Livermore. - Carolyn Lord

Painted March 28, 2003
Exhibits: 2003 Livermore Art Association Spring Show
2004 Arizona Aqueous, Tubac Center of the Arts, Tuba, AZ
This California watercolor painting is available as a fine art giclée print on premium watercolor paper.