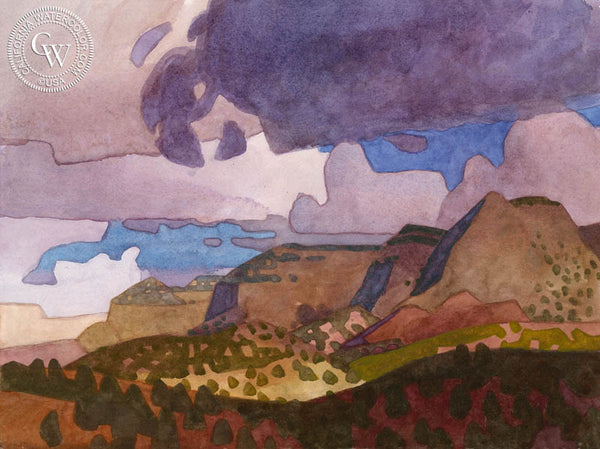 Biography: Carolyn Lord (1956 - ) Southern California native Carolyn Lord was introduced to the "California Regionalist Watercolor" tradition by James Green in the mid 1970's while attending Principia College, in Elsah, Illinois. During college she also attended watercolor workshops with Rex Brandt, George Post, and Robert E. Wood. Two months...... read more
&nbsp
Bluffs Under Clouds, 2018, an original watercolor painting by Carolyn Lord.
In 1963, watercolorist Milford Zornes and his wife Pat Zornes bought Maynard Dixon's Summer Home and Studio in Mt. Carmel, Utah from Dixon's widow, Edith Hamlin. Milford and Pat organized annual watercolor workshops for fellow artists and students so they could paint together. In the spirit of Zornes' vision, I have organized what's called the Milford Zornes Watercolor Retreat with assistance from Southern Utah watercolorist, Spike Ress.
"Bluff Under Clouds" was painted during this retreat, and features the iconic landscape that inspired Dixon, Zornes, and numerous other artists.  Usually this late in the season, the weather is dry and the skies are clear but a tropical storm front from the Gulf of Mexico brought rain, and snow to the higher elevations, then was followed by these cloud formations. - Carolyn Lord

Painted October 5, 2018
This artwork is available as a premium fine art giclee print on Arches watercolor paper.