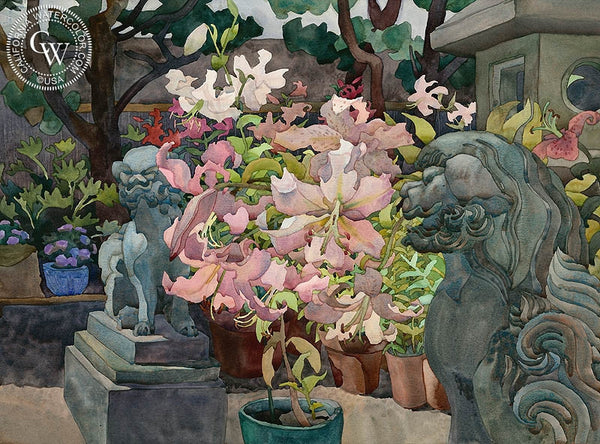 Biography: Carolyn Lord (1956 - ) Southern California native Carolyn Lord was introduced to the "California Regionalist Watercolor" tradition by James Green in the mid 1970's while attending Principia College, in Elsah, Illinois. During college she also attended watercolor workshops with Rex Brandt, George Post, and Robert E. Wood. Two months...... read more
&nbsp
Barking Lilies, 1983, an original watercolor painting by Carolyn Lord.
Mary and Millard Sheets invited my husband and I to be house guests at "Barking Rocks", their home in Gualala, along the northern California coast. It was called  Barking Rocks because of the noisy colony of California Sea Lions that inhabit the nearby rocky islands. Approaching their home, we were greeted by Chinese Fu dogs and a Japanese stone lantern surrounded by Oriental lilies. In the distance, by the front door, were blue hydrangeas in enormous blue and white glazed Chinese pots.
The Oriental lilies were significant to me because in August, 1979 I had taken a 2-week watercolor workshop with Millard in Ashland, Oregon. During the weekend break, one of the other workshop students, Judi Betts had traveled to Brookings, Oregon and brought back to Millard a huge bouquet of Oriental lilies. At the end of the workshop, Millard knew that I'd be traveling through Brookings so he gave me a $50 bill and asked me to order lily tubers to be delivered to Barking Rocks. Since Millard had emphasized the concept of relationships  during the workshop, I carefully considered all of the color, value, and pattern options because I knew he'd notice!
October 1979, I attended Millard's solo-show at the Fireside Gallery, Carmel and one of the paintings in the show was of the lily bouquet that Judi had given him. During the early 1980's Millard created numerous lily paintings of the lilies. For me, "Barking Lilies" embodies memories of Millard's workshop, lily shopping that resulted in his lily paintings, and hearing the sea lions barking while being a guest at the Sheets' home. - Carolyn Lord
Painted August 21, 1983
Exhibits: 1983 Livermore Fall Festival, award
1984 Watercolor West
1984 Watercolor Oklahoma
1985 Santa Cruz Art League Statewide, award
1985 Northeastern Nevada Museum, Elko, Nevada
1986-87 West Coast Watercolor Society Traveling exhibition
This California watercolor painting is available as a fine art giclée print on premium watercolor paper.