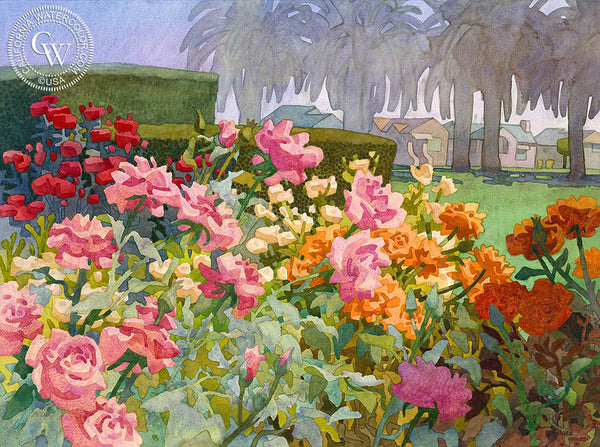 Biography: Carolyn Lord (1956 - ) Southern California native Carolyn Lord was introduced to the "California Regionalist Watercolor" tradition by James Green in the mid 1970's while attending Principia College, in Elsah, Illinois. During college she also attended watercolor workshops with Rex Brandt, George Post, and Robert E. Wood. Two months...... read more
&nbsp
This is a studio painting based on a 11" x 15" plein air watercolor done on L Street near College Avenue, in Livermore, CA.
Painted 2015
Exhibit: 2016 California Art Club Gold Medal Exhibit, Autry Museum, Los Angeles, CA.  Artist's statement form the CAC catalogue: "Several years ago, I bought and read the Franz Bischoff monograph that was published by the Irvine Museum. Bischoff's vibrantly colored paintings of roses inspired me to revisit a favorite motif of mine: rose gardens. A small watercolor plus several sketches and drawings were done at a friend's garden that is across the street from a historic allee of palm trees.  These became the reference materials that I worked from in my studio, where I created my own vibrant "April Roses with Palms". - Carolyn Lord

This California watercolor painting is available as a fine art giclée print on premium watercolor paper.