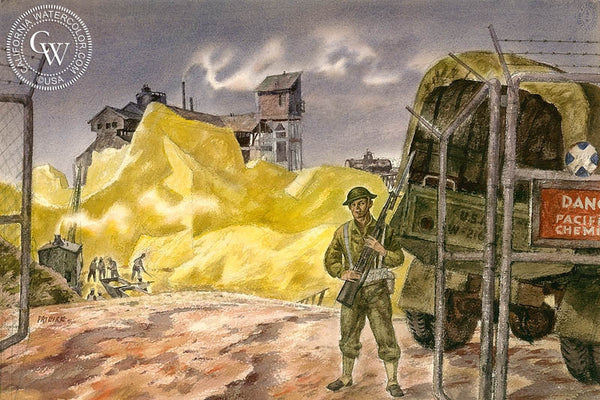 Biography: James Patrick (1911-1944), Born: Cranbrook, British Columbia; Studied at Chouinard Art Institute (Los Angeles); Member: California Water Color Society. James Patrick grew up in Southern California and attended high school in Hollywood. In the late 1920s, he received a three-year scholarship to study at the Chouinard Art Institute. During the...... read more
&nbsp
Weapons of War, 1942, an original watercolor painting by James Hollins Patrick. This painting is available as a fine art giclée print on premium watercolor paper.
Pacific Chemical Company, Los Angeles, CA, during WWII
One of the many processing sites (in this case raw sulfur) found in Los Angeles County during WWII. It is amusing that "security" was such that Patrick had no difficulty in depicting this place and the activities there. He did have "Civilian Credentials" issued by the Western Defense Command so this may have been enough for the guard to allow Patrick to paint this, but the security apparently was still not of the highest level. Courtesy of son Ian Patrick

Exhibited: Painting World War II: The California Style Watercolor Artists, Oceanside Museum of Art, April 18 October 3, 2010.

World of Watercolor, Fallbrook Art Center, March 6 - April 27, 2011.
SPECIAL DISCOUNT - Giclée prints on sale up to 60% off select sizes.
Books and Catalogs on James Hollins PatrickView All