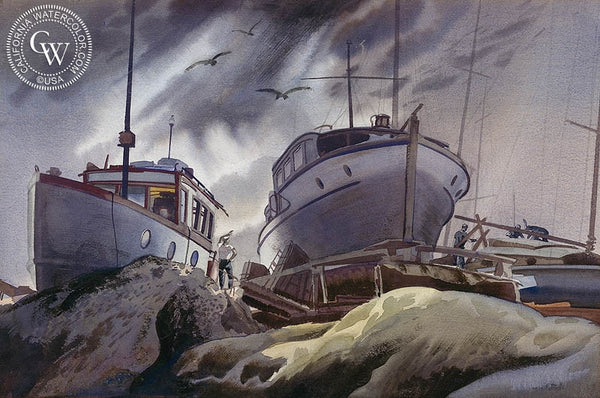 Biography: James Patrick (1911-1944), Born: Cranbrook, British Columbia; Studied at Chouinard Art Institute (Los Angeles); Member: California Water Color Society. James Patrick grew up in Southern California and attended high school in Hollywood. In the late 1920s, he received a three-year scholarship to study at the Chouinard Art Institute. During the...... read more
&nbsp
Approaching Storm, 1938, an original watercolor painting by James Hollins Patrick. This painting is available as a giclée art print on premium watercolor paper.

Exhibited: National Watercolor Society: Southern California Inspirations, Past and Present - Oceanside Museum of Art, December, 2018 - April, 2019.
This is another of the artist's paintings made in Watchorn Basin, San Pedro. He loved boats, particularly the meticulous work that surrounded them. Almost all of his art of the subject depicts boats as objects for man to lavish care on. His paintings frequently exhibit a sky's warning of an impending storm, but this one known to actually be titled as such. Shown in Jake Zeitlin Gallery in Dec. 1939.
Courtesy of son, Ian Patrick
SPECIAL DISCOUNT - Giclée prints on sale up to 60% off select sizes.