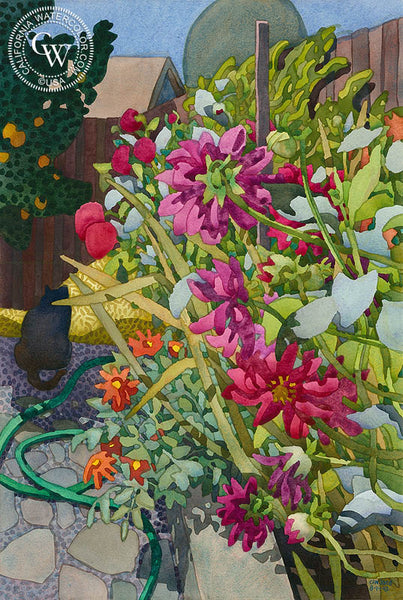 Biography: Carolyn Lord (1956 - ) Southern California native Carolyn Lord was introduced to the "California Regionalist Watercolor" tradition by James Green in the mid 1970's while attending Principia College, in Elsah, Illinois. During college she also attended watercolor workshops with Rex Brandt, George Post, and Robert E. Wood. Two months...... read more
&nbsp
Barb's Garden, 1993, an original watercolor painting by Carolyn Lord.
I knew Barb because she attended our son's home-birth and she invited me to paint her garden. I brought my art supplies, my 3 month old son, and a neighborhood friend who cared for my him. I could paint  and be available to nursing him. The eye-catching dahlias dominate the scene and I enjoyed including other details of Barb's backyard: green plastic hose; well-fed cat, orange tree; and the compost pile by the back fence! - Carolyn Lord
Painted August 14, 1993
Exhibits: Permanent collection, Hilbert Museum of California Art at Chapman University, Orange, California.

This artwork is available as a fine art giclée print on premium watercolor paper.