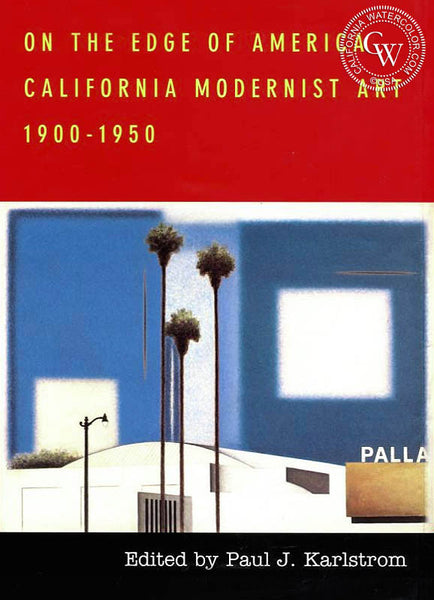 &nbsp
On the Edge of America, California Modernist Art 1900 - 1950
308 pages, hardcover, NEW (sealed)- $89.50

Edited by Paul J. Karlstrom, University of California Press

To many, California's social and cultural identity has set it apart from the rest of the nation. Identified almost exclusively with Hollywood and popular culture, the entire region has been denied a meaningful relationship to mainstream twentieth-century modernism. This groundbreaking collection emphatically challenges that assumption. In essays about California art during the first half of the century, the contributors evoke a culture, now recognizable as modernist, that reflects the actual circumstances of contemporary West Coast artistic experience in all its richness. The subjects include painting, murals, sculpture, film, photography, and architecture.
The issue of regionalism is central to this remarkable collection. How do we build a cultural portrait of an area that reveals its distinctive character while recognizing its participation in the larger art historical framework? Through the essays runs the theme of an alternative culture that transformed modernism to suit its own regional imperatives. Compelled by a sense of distance and the need for reinvention, California artists created traditions for a new cultural landscape and society.
On the Edge of America
is an enlightening and visually exciting addition to the growing literature on California art and culture. Through its fresh and expanded view of modernism, it is also well suited to the formulation of a truly national cultural narrative, one that embraces the edges as well as the center of American creative life.