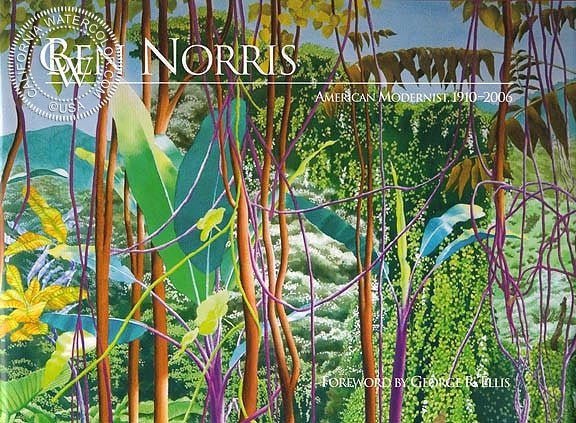 &nbsp
236 pages, an Autobiography, edited by Margaret Norris Castrey

337 illustrations, hardcover - $50.00 
For Seven Decades, art was the substance of Ben Norris's life. Beginning as a watercolor painter of landscapes, Norris quickly progressed through a range of media, styles, and themes. Throughout his highly productive career, his painting featured strong rhythms, and dynamic patterns organized in complex compositions that he explored in rapidly developed series. His inquiry was never meager, never superficial.

His art derived much of its emotional impact from his distinctive use of rich, sensuous color. Throughout the years his work remained individual, continuing to shift between poles of apparently complete abstraction to figuration and landscape imagery.

Born in Redlands, California in 1910, Norris graduated magna cum laude in 1931 from Pomona College. The first recipient of the William Lincoln Honnold Fellowship, he conducted graduate work at the Fogg Museum at Harvard University, where he studied with George Harold Edgell, Paul Joseph Sachs, Arthur Pope, Chandler Rathfon Post, and Langdon Warner. He then studied at the Institute of Art and Archeology at the Sorbonne in Paris and traveled in Europe before returning to California.

After Studying with Stanton Macdonald-Wright, Norris came to Hawaii in 1936 as the first art teacher at Kamehameha School for Boys. He joined the faculty of the University of Hawaii in 1937 and served as chair of the Department of Art from 1945 to 1955. In 1955-56 he received a Fulbright-Hays Fellowship to study and teach in Japan.

He helped to develop a serious school of Contemporary art at the University of Hawaii by inviting internationally acclaimed artists to visit and teach. During his tenure he brought Max Ernst, Jean Charlot, Josef and Annie Albers, and Dorothea Tanning to Hawaii. Norris retired as emeritus professor in 1976 and moved to New York City. In 1993, he moved to Philadelphia where he continued to paint until he was 90 years old.

Norris participated in many group and individual exhibitions, notably the de Young Museum in San Francisco, the Metropolitan and Whitney museums in New York, and eight solo exhibitions at the Honolulu Academy of Arts. In his last show, in 2001-02, he presented a new series of watercolor landscapes of Hawaiian Rain Forests.

California Watercolor - California Art Books