Burns Brothers, 1936

15 x 22.25 inches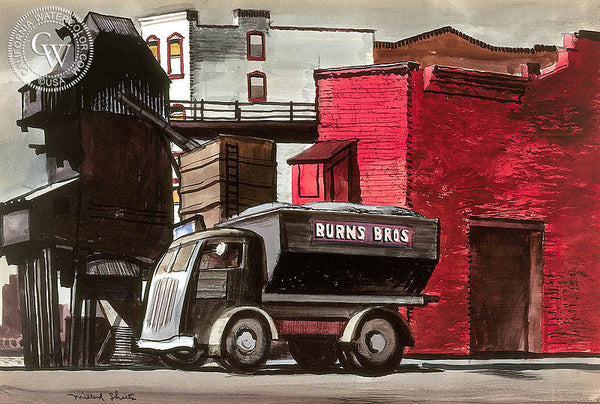 Biography: Millard Sheets, N.A. (1907-1989) Born: Pomona, CA; Studied: Chouinard Art Institute (Los Angeles); Member: National Academy of Design, New York Water Color Club, American Watercolor Society, California Water Color Society. Millard Sheets was a native California artist and grew up in the Pomona Valley near Los Angeles. He attended the...... read more
&nbsp
This image is for reference only.
Exhibited: California Style 1930s and 40s, A traveling show that started at the Sebastopol Center for the Arts from August 21st through September 28th, 1997. It then traveled to the Orange County Museum of Art from December 13th, 1997, through March 22nd, 1998. The show ended at the Ventura Museum of History and Art from April 3rd through June 14th, 1998. This watercolor is on the front cover of the shows catalog, California Style, 1930's and 40's.
Millard Sheets, The Early Years (1926 - 1944), Pasadena Museum of California Art, Feb 13, 2010.
Literature: As seen in California Watercolor Art from the Early 20th Century Through Today.