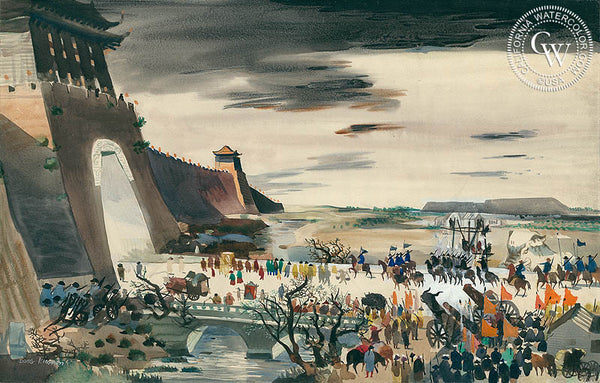 Biography: Dong Kingman, N.A. (1911-2000) Born: Oakland, CA; Studied: Ling Nan School (Hong Kong); Member; National Academy of Design, American Watercolor Society, California Water Color Society. Dong Kingman was born in California of Chinese parents. While still a child, he returned with them to China. There, Kingman received art instruction from...... read more
&nbsp
Dong Kingman never painted any oils of note, with the exception of a great mural in the Dime Bank in Chinatown New York.
This is one of many paintings he did on location in Spain in 1963 during filming of 55 Days at Peking. They were done to help promote the film. Aside from the actual title paintings this is the grandest painting he did for this project.
In 1963 Wildenstein Gallery, New York, did a special exhibition of Kingman paintings from 55 Days at Peking. The photo is Kingman with the famous producer Samuel Bronston and the producer of the film 55 Days at Peking. The Photo was taken at the Wildenstein show 1963. Kingman and Bronston became good friends.
Kingman tended to keep a few of the paintings he liked. This was packed and stored away for several years. Charlton Heston owned lesser paintings from this series.
The great bulk of the film related work, including 55 Days at Peking, was catalogued by Dong Kingman Jr. and donated to the Academy of Motion Picture Arts and Sciences where it will stay forever because they never de-commission or sell anything. That is their policy. That's why Kingman Jr. made the decision to do It, in an effort to maintain the integrity of Kingman's film related work.
This particular piece has an interesting back-story. Bronston wanted one large painting and all Kingman had was 22 x 30 in. watercolor paper. When Michael Johnson sent this piece to Aitchision and Watters to be conserved as a watercolor, it was brought back as they considered it an oil. It was then sent to Engel and Hulbert, only to be told fit was not an oil. The actual history is that Kingman borrowed a matte board and matte paint from the production department in Spain and painted this painting, a first and only for him.
Note: A matte painting is a painted representation of a landscape, set, or distant location that allows filmmakers to create the illusion of an environment that is nonexistent in real life or would otherwise be too expensive or impossible to build or visit. Historically, matte painters and film technicians have used various techniques to combine a matte-painted image with live-action footage. At its best, depending on the skill levels of the artists and technicians, the effect is "seamless" and creates environments that would otherwise be impossible to film. In the scenes the painting part is static and movements are integrated on it.
55 Days at Peking-Charlton Heston, Ava Gardner and David Niven. See http://www.imdb.com/title/tt0056800/