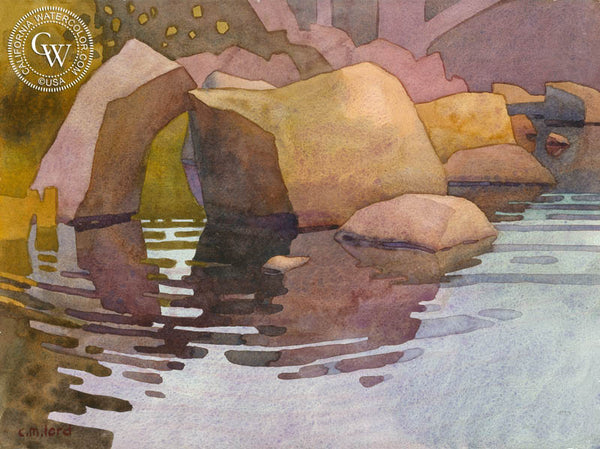 Biography: Carolyn Lord (1956 - ) Southern California native Carolyn Lord was introduced to the "California Regionalist Watercolor" tradition by James Green in the mid 1970's while attending Principia College, in Elsah, Illinois. During college she also attended watercolor workshops with Rex Brandt, George Post, and Robert E. Wood. Two months...... read more
&nbsp
Beside the Clear Water at Negro Bar, 2018, an original watercolor painting by Carolyn Lord.
I had been asked to be in a 3-artist show at Gallery at 48 Natoma, the civic art gallery of Folsom, CA. One of the other artists invited me to spend a couple of days painting at Negro Bar State Park, in Folsom along the American River.  I had painted there before so I was looking forward its iconic boulders along the river's edge.  The site received its name because of a small number of African-Americans who were reputed to be the first to mine the area in late 1849.
As planned, on November 8th, I drove from the San Francisco Bay Area to my artist friend's home, noting that the traffic was unusually heavy. I later learned that a fire had started that afternoon, 80 miles north of metropolitan Sacramento .  The next day, we went to Negro Bar: my morning painting had the effect of sunlight on a crisp autumn day, with the blue sky reflected in the water. In the afternoon, I painted "Besides the Still Waters at Negro Bar". Initially I thought that the unique color composition was a result of the low, autumnal sun coming through hazy skies, but towards the end of the day it became obvious that the sky was filled with smoke and ash. This was the effect of the Camp Fire, the most destructive wildfire recorded in California history, lasting 17 days, burning 153,336 acres, and the cause of 86 deaths. - Carolyn Lord

Painted November 9, 2018
This artwork is available as a premium fine art giclee print on Arches watercolor paper.