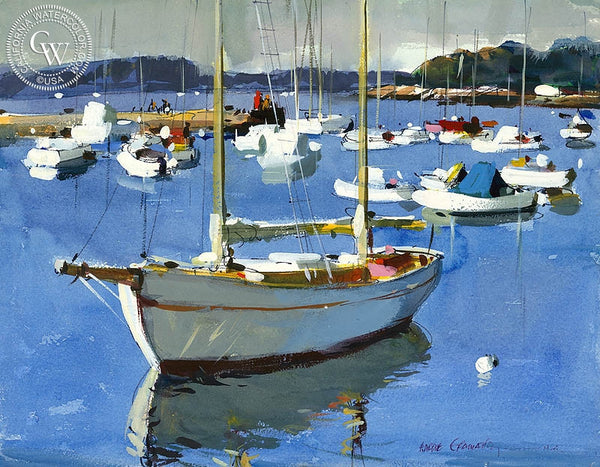 Biography: Hardie Gramatky, N.A. (1907-1979) Born: Dallas, TX; Studied: Stanford University, Chouinard Art Institute (Los Angeles); Member: National Academy of Design, New York Water Color Club, American Watercolor Society, California Water Color Society. Hardie Gramatky was raised in Southern California. He studied art with F. Tolles Chamberlin, Clarence Hinkle, Pruett Carter...... read more
&nbsp
A California art print on Arches watercolor paper. 100% archival, and printed in HD.
"My parents and I loved going down to the marina at Compo Beach to watch the boats. Originally it was called Cedar Point Yacht Club, but when they moved across the river, it was then called the Minuteman Marina. (Minuteman is a big name in Westport, CT, because we are proud of the minutemen who held off the British as they marched towards Danbury. There is still a wonderful old cannon on the beach that children love to climb on.) Dad painted this in 1977, the year before he got cancer."

Courtesy of daughter-Linda Gramatky Smith

Literature: As seen in California Watercolor Art from the Early 20th Century Through Today.

Exhibited: "This Enchanted Land, American Regionalism 1930 - Today", at the Fallbrook Art Center, May 19th - July 1st, 2012.