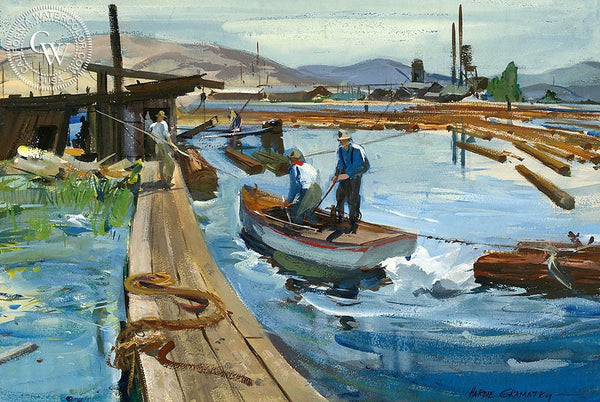 Biography: Hardie Gramatky, N.A. (1907-1979) Born: Dallas, TX; Studied: Stanford University, Chouinard Art Institute (Los Angeles); Member: National Academy of Design, New York Water Color Club, American Watercolor Society, California Water Color Society. Hardie Gramatky was raised in Southern California. He studied art with F. Tolles Chamberlin, Clarence Hinkle, Pruett Carter...... read more
&nbsp
A California art print on Arches watercolor paper. 100% archival, and printed in HD.
Exhibited: "This Enchanted Land, American Regionalism 1930 - Today", at the Fallbrook Art Center, May 19th - July 1st, 2012.
National Watercolor Society: Southern California Inspirations, Past and Present - Oceanside Museum of Art, December, 2018 - April, 2019.
"Dad worked in a logging camp near Hoquiam, Washington, to pay his way through Stanford University. He went to Stanford for two years, and in the spring of his sophomore year, he was in a painting class and everyone was given an assignment. Dad completed it, went to have lunch, and when he came back, the other students were just getting started. His professor told him that he couldn't teach him any more about art and that Dad should go to Chouinard down in Los Angeles. `You can always continue your literature on your own' and that's what Dad did. I believe that when he was out in California he painted this watercolor when he and Mom went to visit friends in Washington."
Courtesy of daughter-Linda Gramatky Smith