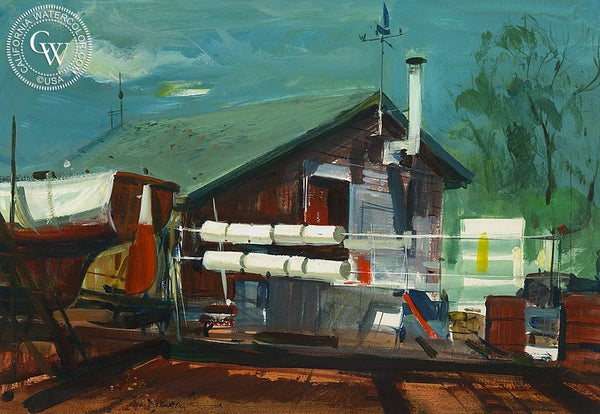 Biography: Hardie Gramatky, N.A. (1907-1979) Born: Dallas, TX; Studied: Stanford University, Chouinard Art Institute (Los Angeles); Member: National Academy of Design, New York Water Color Club, American Watercolor Society, California Water Color Society. Hardie Gramatky was raised in Southern California. He studied art with F. Tolles Chamberlin, Clarence Hinkle, Pruett Carter...... read more
&nbsp
Little Shipyard, (Westport), 1967, an acrylic painting on illustration board. This painting is available as a fine art giclée print on premium watercolor paper.
Exhibited: American Watercolor Society traveling exhibit, 1970.
Literature: Complete Guide to Acrylic Painting, 1971, by Wendon Blake.
"This shipyard in Southport, Connecticut, was owned by Mr. Burr who became good friends with my father. The painting was used in the book Complete Guide to Acrylic Painting published in 1971 by Watson Guptill. It was also picked to travel in the 1970 American Watercolor Society Traveling Exhibit.
Courtesy of daughter Linda Gramatky-Smith