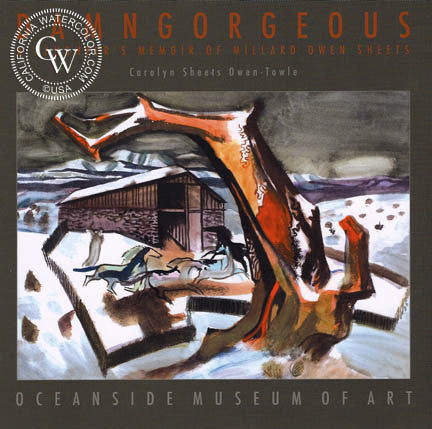 &nbsp
This book accompanies an exhibition at the Oceanside Museum of Art entitled: DAMNGORGEOUS, Millard Sheets and His Southern California Legacy, from Sept. 14, 2008 - Jan. 4, 2009.

146 Pages, by Carolyn Sheets Owen-Towle

36 color and 13 black and white illustrations, softcover - $22.00 
Sweet to the senses are the oft-told stories of my family that burrow their way down through the generations. Kind or rude, funny or heart-rending, they are settling, they anchor my life. The stories of our family have been handed down by word of mouth, through the generations, largely by the women folk, but also by the men.
I remember sitting in reverie as Gramdma Mamie rubbed my back telling me yet another familiar tale. Auntie Elizabeth and Mother were as full of stories as Grandma was. Each report has filled me with a living, breathing moor for my life. Captivated by the strength of my forbears. I'm emboldened to transmit their stirring legacy. Since I am unable to tell you in person, this treasure trove of family lore, this memoir will have to suffice.
For years I harbored a growing conviction that my father's astonishing life story needed to be told by someone who knew him well. When I decided I was the one to do that, I had neither a simple nor an exhaustive biography as goal, but rather an intimate, familial expression of who Millard Owen Sheets truly was and how he was influenced, and was shaped, by the world.
California Watercolor - California Art Book