Heavy Surf, Hawaii, 1951

22 x 30 inches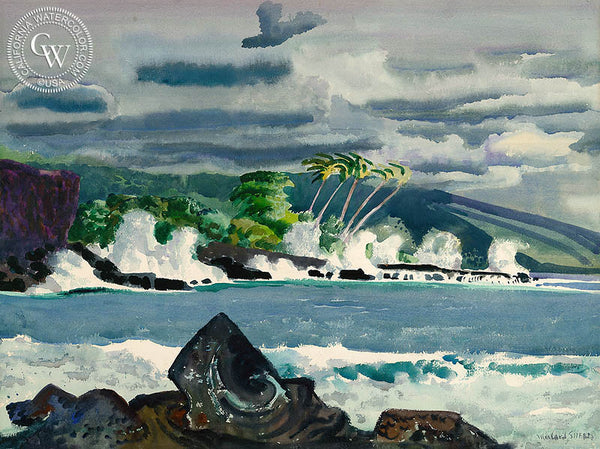 Biography: Millard Sheets, N.A. (1907-1989) Born: Pomona, CA; Studied: Chouinard Art Institute (Los Angeles); Member: National Academy of Design, New York Water Color Club, American Watercolor Society, California Water Color Society. Millard Sheets was a native California artist and grew up in the Pomona Valley near Los Angeles. He attended the...... read more
&nbsp
Heavy Surf, Hawaii, 1951, an original watercolor painting by Millard Sheets. This painting is available as a fine art giclée print on Arches watercolor paper. 
Provenance: In 1951 and 1952 Millard was hired to teach art at the University of Hawaii in Honolulu on the island of Oahu. He and his wife Mary had a longtime friend who had a home on the Kona Coast of the Big Island of Hawaii. She was the wife of a man who flew his private plane over the island of Oahu when the Japanese attacked Pearl Harbor, and survived. So, Millard decided to rent her home for a year and move his wife Mary and their four kids to Hawaii.
Their oldest son Owen transferred to the University of Hawaii where he graduated as an Agronomist in the sugar industry. He married a classmate from the Islands and lived the rest of his life there.
Their 15 year old daughter Carolyn attended school in Kona and took hula lessons for the year. She was the only blond in school.
Sons David, age 11, and Tony, age 8, also attended school in Kona where they went barefoot for the whole year. They walked a mile to school and back, and played in the tea plant hill slides. When they weren't exploring the hillsides nearby they caught fish for Millard to use as still-life's in his paintings.
It was one of the most memorable years the Sheets family ever spent together, and a year in which Millard's style and approach to his painting took a wonderful new direction.
Aloha,
Courtesy Tony Sheets