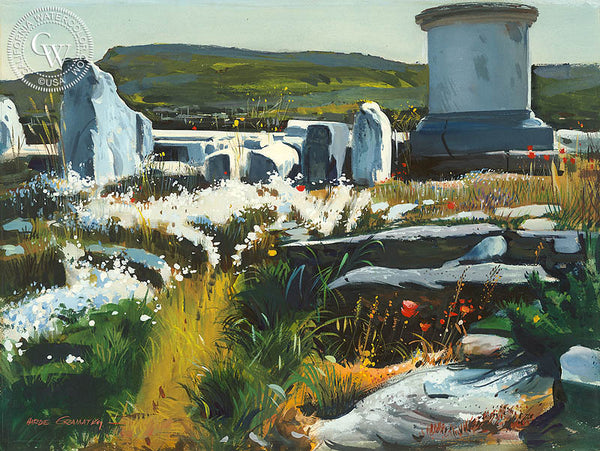 Biography: Hardie Gramatky, N.A. (1907-1979) Born: Dallas, TX; Studied: Stanford University, Chouinard Art Institute (Los Angeles); Member: National Academy of Design, New York Water Color Club, American Watercolor Society, California Water Color Society. Hardie Gramatky was raised in Southern California. He studied art with F. Tolles Chamberlin, Clarence Hinkle, Pruett Carter...... read more
&nbsp
Where Once Greek Gods, 1962, an original watercolor painting by California artist Hardie Gramatky.
Available as a fine art print on Arches watercolor paper. 100% archival, and printed in HD.
"Painted in Delos, Greece, and chosen for an exhibit at the National Academy in 1963 and the New Britain [CT] Museum. Then Dad sold the watercolor to Eric H. Paige from North Tarrytown, NY, the following year and when I tried to find it to borrow for an exhibit, it had disappeared. I couldn't locate Mr. or Mrs. Paige. Serendipitously, in 2008, the painting appears in an auction house and we were able to purchase it. I sent the auction house owner a letter to be sent to the consignor, hoping it was a son or daughter of the Paiges. But I never heard from them and have a suspicion that the letter was never delivered! I'm glad to get this painting back."
Courtesy of daughter-Linda Gramatky Smith
Books and Catalogs on Hardie GramatkyView All