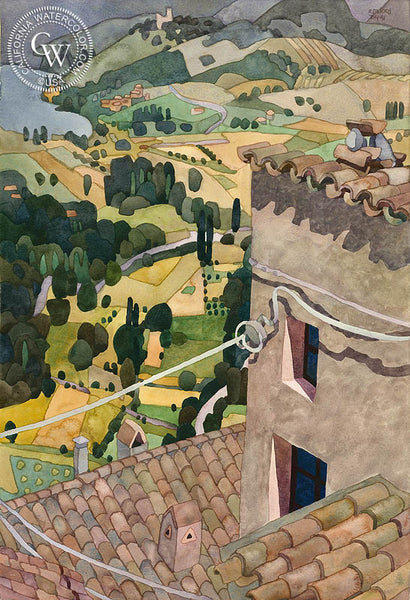 Biography: Carolyn Lord (1956 - ) Southern California native Carolyn Lord was introduced to the "California Regionalist Watercolor" tradition by James Green in the mid 1970's while attending Principia College, in Elsah, Illinois. During college she also attended watercolor workshops with Rex Brandt, George Post, and Robert E. Wood. Two months...... read more
&nbsp
Alta Vista dal Labro, Italy, 1991, an original watercolor painting by Carolyn Lord.

I spent 6 weeks in Italy in 1991, 4 weeks teaching a watercolor workshop to American students at La Romita School of Art, Terni, Italy. June 28 to July 25. Most days, we were taken to yet another incredibly picturesque village or hill town to paint. This  vista provided pleasing patterns of cultivated fields, orchards, rustic walls, tile roofs and chimneys, with the contemporary adaptations of electrical and telephone wires. - Carolyn Lord

Painted July 4, 1991

This California watercolor painting is available as a fine art giclée print on premium watercolor paper.