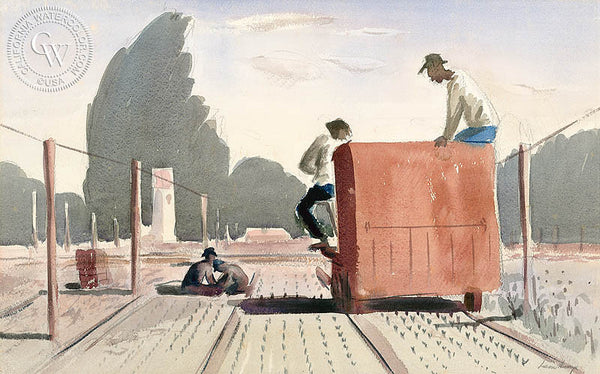 Biography: Leon Amyx (1908-1995) Born: Visalia, CA; Studied: Claremont College (California), University of California (Berkeley), California College of Arts and Crafts (Oakland); Member: California Water Color Society. Leon Amyx studied with Millard Sheets, Henry Lee McFee and Erle Loran. He taught art at Harnell College in Salinas from 1936 to 1972....... read more
&nbsp
At the start of WWII, the government started an ill-fated program in the California Central Valley to turn Guayole into rubber to help the war effort.

Exhibited: The American Scene, Regionalist Painters of California 1930-1960's, Fallbrook Arts Center, Sept. 1999.

"This Enchanted Land, American Regionalism 1930 - Today", at the Fallbrook Art Center, May 19th - July 1st, 2012.
This watercolor is available as a museum quality fine art giclee print on premium watercolor paper.