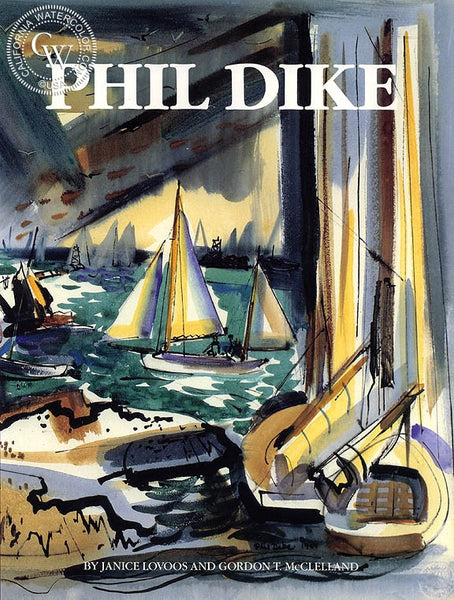 &nbsp
63 pages, by Janice Lovoos & Gordon McClelland

62 color illustrations, hardcover - $35.00

Phil Dike's perception of his environment, his dramatic sense of pictorial design, and his love of life, color, and atmosphere have led to the body of masterfully conceived and executed paintings discussed and illustrated here.

He has drawn on his life experiences for his work, starting with his student days in California, New York and Europe and his travels to the Southwest deserts and mining camps. He has produced a vibrant portrayal of the life and the scenery along the California bays, harbors, and wilderness coast where he has spent his career as an artist and teacher.
Dike is a member of the National Academy of Design, the American Watercolor Society, and is a Past President of the California Water Color Society. His works can be found in the collections of the Metropolitan Museum New York, the Los Angeles County Museum of Art, California, the National Academy of Design, New York, the Butler Institute of American Art, Ohio, the Springfield Museum, Missouri, the Santa Barbara Museum of Art, California, the Phoenix Art Museum, Arizona, the Laguna Beach Museum of Art, California, and many other public and private collections.
California Watercolor - California Art Book