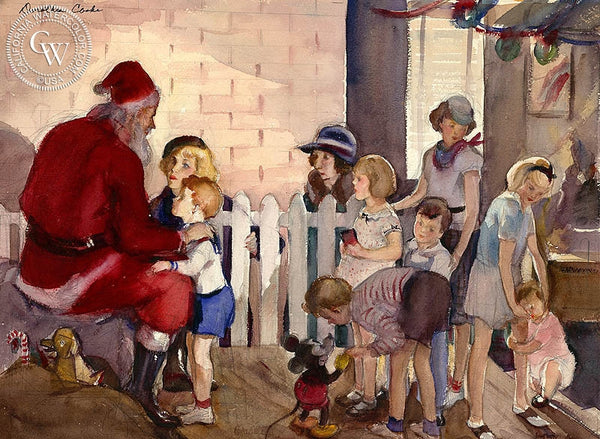 Biography: Dorothea Cooke (Gramatky), (1908-2001) Born: Hollywood, CA, Studied: Chouinard Art Institute (Los Angeles). Dorothea Cooke graduated from Hollywood High School before deciding not to go to college but to study her passion, art. Her parents had come from New Hampshire where her father, Charles Prentice Cooke, was an MIT graduate...... read more
&nbsp
A California art print on Arches watercolor paper. 100% archival, and printed in HD.
Exhibited: "This Enchanted Land, American Regionalism 1930 - Today", at the Fallbrook Art Center, May 19th - July 1st, 2012.

"My mother did this for her own enjoyment when she got to New York and was enamored with the Santas in big department stores. I love the touch of having a live Mickey Mouse there, since she'd just left California after my father ended his six-year contract with the Walt Disney studios. She was excellent at drawing small children, even though I wouldn't be born for another seven years."
Courtesy of Daughter-Linda Gramatky Smith