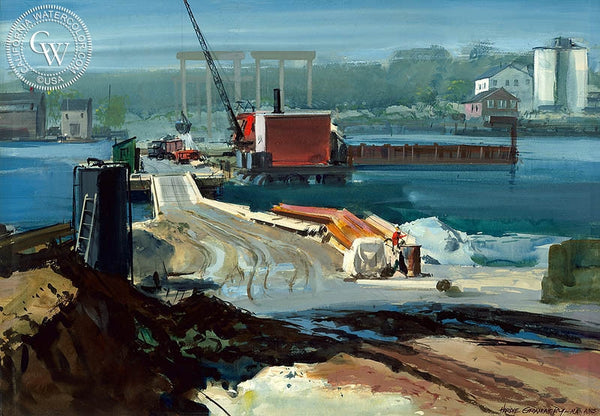 Biography: Hardie Gramatky, N.A. (1907-1979) Born: Dallas, TX; Studied: Stanford University, Chouinard Art Institute (Los Angeles); Member: National Academy of Design, New York Water Color Club, American Watercolor Society, California Water Color Society. Hardie Gramatky was raised in Southern California. He studied art with F. Tolles Chamberlin, Clarence Hinkle, Pruett Carter...... read more
&nbsp
The Farther Shore, (Westport), 1956,
an original watercolor and gouache painting by California artist Hardie Gramatky.
"Painted when the Connecticut Turnpike (I-95) was being built through Saugatuck, Connecticut, in the mid-50s. Awarded an American Watercolor Society award in 1973 and chosen for the 106th Annual AWS traveling exhibit 1973-1974. Purchased by Mrs. M. B. Merryman of San Diego, and sold at auction in 2009."

Courtesy of daughter-Linda Gramatky Smith

Exhibited: "This Enchanted Land, American Regionalism 1930 - Today", at the Fallbrook Art Center, May 19th - July 1st, 2012.
Winner:Helen Gapen Oehler Award, American Watercolor Society, 1973
Award of Distinction, Mainstream's, 1975