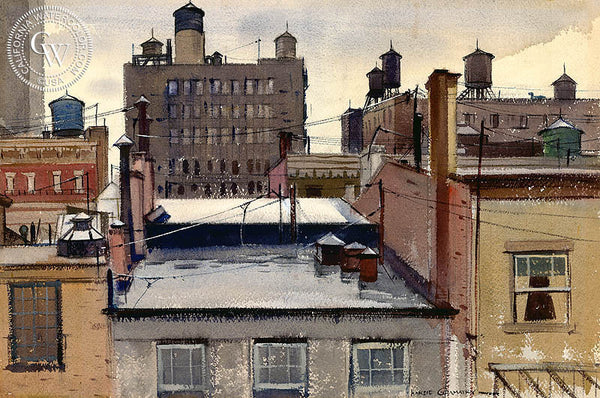 Biography: Hardie Gramatky, N.A. (1907-1979) Born: Dallas, TX; Studied: Stanford University, Chouinard Art Institute (Los Angeles); Member: National Academy of Design, New York Water Color Club, American Watercolor Society, California Water Color Society. Hardie Gramatky was raised in Southern California. He studied art with F. Tolles Chamberlin, Clarence Hinkle, Pruett Carter...... read more
&nbsp
A California art print on Arches watercolor paper. 100% archival, and printed in HD.
WATERCOLOR PAINTING, A Comprehensive Approach to Mastering the Medium, by Tom Hoffman.
"When my parents moved to New York City, they would go up on the roof to get some air, like all City dwellers who have access to the roof in their building. This view across the top of the roofs captures what the City was like back in the 30s. And the palette is very representative of my Dad's colors in the NY years. The watercolor was in the huge Bergen Museum of Art & Science 1991 retrospective exhibit."
Courtesy of daughter-Linda Gramatky Smith