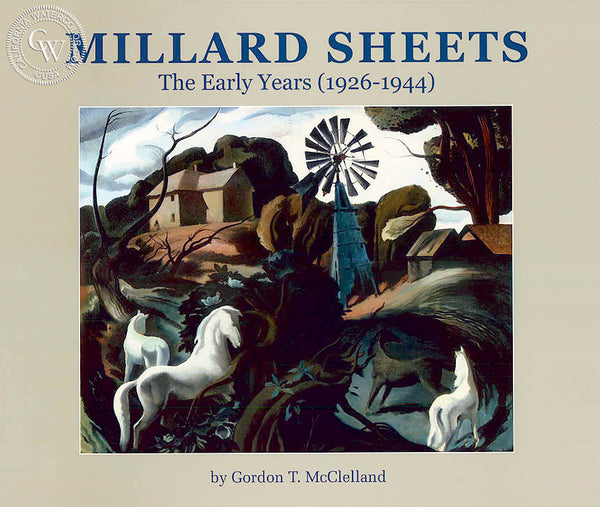 &nbsp
This book accompanies an exhibition at the Pasadena Museum of California Art entitled: Millard Sheets, The Early Years (1926 - 1944), Feb 13, 2010

192 Pages, by Gordon T. McClelland

93 Full Page Color Illustrations, 10.25" x 12.25" jumbo hardcover - $35.00 
It was during the Great Depression of the 1930s that artist Millard Sheets experienced a rapid rise in fame within the American Regionalist Art Movement. He was just 27 years old when art critics proclaimed him to be California's premier Regionalist artist and one of America's foremost watercolor painters.

Sheets was a native of Southern California who grew up on a farm in Pomona and received his art instruction in Los Angeles. After traveling through Europe in 1929 he returned home and in spite of the depressed economy, he successfully launched an art career. During the 1930s he focused on creating innovative oil paintings and watercolors which captured the essence of the California scene.

These works soon received national attention. President Roosevelt and his wife hung a Millard Sheets oil painting in the White House. His art was purchased by major museums including the Metropolitan and Chicago Art Institute and was exhibited throughout the United States alongside Edward Hopper, Charles Burchfield, Thomas Hart Benton, Grant Wood and other prominent American painters.

The Chronology Section in this book documents Millard Sheets rich lifetime of achievements; year by year. It provides additional information about the early years of his career. It also reveals an amazing Post World War II career in which he successfully explored a number of different artistic mediums. This includes listings of his many accomplishments in the field of architecture, his tile mural designs, sculptures, prints and stain glass creations. His involvement in furniture design, pottery design and commercial displays are discussed. In addition there are listings of over 30 major art exhibitions he curated and documentation regarding the art departments he developed at Scripps College, Claremont and the Otis Art Institute, Los Angeles.
California Watercolor - California Art Book