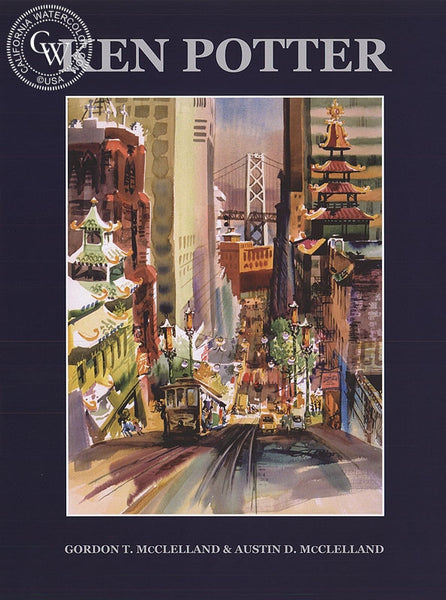 &nbsp
143 pages, by Gordon T. McClelland and Austin D. McClelland

164 illustrations, 9.25 x 12.25 jumbo hardcover - $30.00 
This book commemorates the life and art of Ken Potter, one of the premier California Style watercolor artists of the 20th Century. The first half of the book is an illustrated biography which chronologically documents the progress of his art career. The last half of the book focuses on the subject matter he chose to paint and the different approaches he developed to express himself.
Potter was a native Californian and lived most of his life in the San Francisco area. He grew up during the Great Depression and eventually served in the Marine Corps during World War Two. In the late 1940s he attended the San Francisco Academy of Art. In the early 1950s, he continued his art education in Paris, where he studied with Cubist masters Jean Metzinger, Albert Gliezes, and Fernand Leger.

After spending time in Europe, New York City, and Rio de Janeiro, he returned to Northern California where he settled. There he built a reputation as a professional American watercolor painter and as an inspiring teacher of art.
Through the years, Potter developed a unique abstract style. His compositions were often based on his interest in Cubism, while his color pallet showed his interest in Fauvism. The compositional elements of his works were very carefully planned and structured, while the actual painting process was very spontaneous, direct, and experimental.

His works were exhibited extensively on the West Coast and in select exhibitions throughout America and Europe. Potter was a signature member of the American Watercolor Society, past President of the West Coast Watercolor Society. Additionally Potter was an active member of the Society of Western Artists, Marin Society of Artists, and East Bay Art Association.

California Watercolor - California Art Books